History of Mount Aloysius beginning in 1871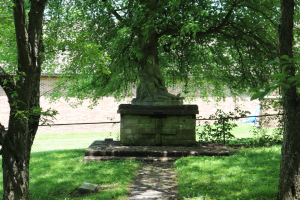 In 1871, Hugh Donnelly gifted his farm to the Most Reverend Sylvester H. Rosecrans, Bishop of Columbus, on the condition that it would be used for a school.  In 1875 Bishop Rosecrans asked Mother Aloysia Lenders, Mother General of the Franciscan Sisters of Christian Charity in Germany, to assume the debts of the building and undertake the task of establishing a Christian school.
In 1875 a group of six Franciscan Sisters, led by Mother Gonzaga Brexel, arrived from Germany.  On Saint Francis Day 1876, Saint Aloysius was dedicated and ready to accept students.  Saint Aloysius Military School and Academy was established in 1938 as a boarding school for males and provided their education from the third through the eighth grade.  For its first 72 years, Saint Aloysius Academy High School remained a school for females.  In 1948 the high school was opened to males.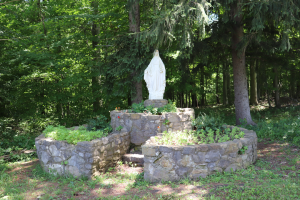 Due to changes within the educational system, Saint Aloysius closed its doors in 1969.  The Brothers of the Good Shephard were contacted to see if the building would suit their work with the physically and mentally challenged.  The Brothers of the Good Shephard purchased the Academy and opened the doors of Mount Aloysius on November 1, 1969.
The Brothers of the Good Shepard took over the facility and residents were placed here when they were young boys.  Several years later the Saint Aloysius building was demolished and a new Mount Aloysius was built.  Many of the current residents often speak of the previous building and the good times that they enjoyed during those days.  The remnants of the old building were buried in the area of the former pond that was located near the driveway. 
The previous building had been home to the residents, as well as a home to the cadets that had come from all over the United States and other countries.  Also, during that time many catholic students living in the surrounding areas, attended classes with the cadets in what is now known as the Activity Center, located across the driveway from the Main Building.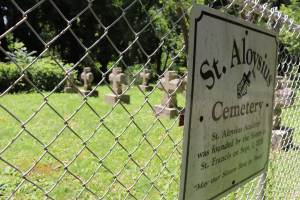 There is a cemetery located on the grounds where many of the priests and sisters were laid to rest.  There is also a very old historical barn and small farmhouse on grounds.  The goal posts from the old football practice field still stand back the road that goes to the shrine.  We also have many statues from the old building on grounds and in the cemetery.  There was once an orchard located just below the Activity Center.
The original swimming pool was located behind the Activity Center and was only useable in the summertime.  It was filled in and replaced with an indoor pool which is located between the driveway and Main Building and is now used year-round. 
Please Read Our Updated Visitation Policy in Response to COVID-19
Mount Aloysius
Mailing Address:
PO Box 598
New Lexington, Ohio 43764

Location Address:
5375 Tile Plant Road, 
New Lexington Ohio 43764